Announcement
InteliVision 18Touch: Monitor and Control Your Site from One Device
For many years, ComAp remote displays together with ComAp controllers have been the right choice for monitoring and controlling customer's gensets and engines in various applications. In order to meet the varied needs of customers, ComAp offers a wide range of displays from basic displays for single controller applications to the more complex ones.
The newest colour display, InteliVision 18Touch, is the most complex display so far, enabling the users to get an overview of the entire site from one location. It represents the new generation of ComAp touch displays featuring large projected capacitive touchscreens coupled with the highest quality powerful hardware and software on the market.
The InteliVision 18Touch allows you to monitor and control more controllers at the same time. Using this device, information can be seen from more controllers on a single site screen. InteliVision 18Touch offers a great array of advanced features for monitoring and controlling ComAp controllers and making customer's lives easier. One of the most beneficial features is that the display can be remotely connected to the controllers via the Internet. This enables users to install easily one or more units in a distant location, for example at their company's headquarters, while being able - at the same time - to monitor everything locally and remotely. Thanks to the ComAp AirGate technology, there is no need for static public IP addresses. Once the AirGate technology in the controller is activated, even if the IP address has been changed, InteliVision 18Touch is able to connect remotely to the controller.

An Advanced Industrial Display for a Wide Variety of Applications and Conditions
A closer look at the features and parameters of InteliVision 18Touch reveals a long-life device of the highest industrial standard, able to withstand various conditions and situations and suitable for many applications. Its front protection complies with IP66 which assures of high-level front protection against dust and water. Together with operating temperature ranging from -10°C to +60°C and extensive compatibility with ComAp controllers, InteliVision 18Touch thus represents a device of the first choice.The InteliVision 18Touch works well in combination with majority of the ComAp controllers' portfolio. At the moment, simultaneous monitoring and control of multiple controllers is not possible for all compatible devices, however the options for all of them are expanding as we are continuously improving our software to maximise the user experience.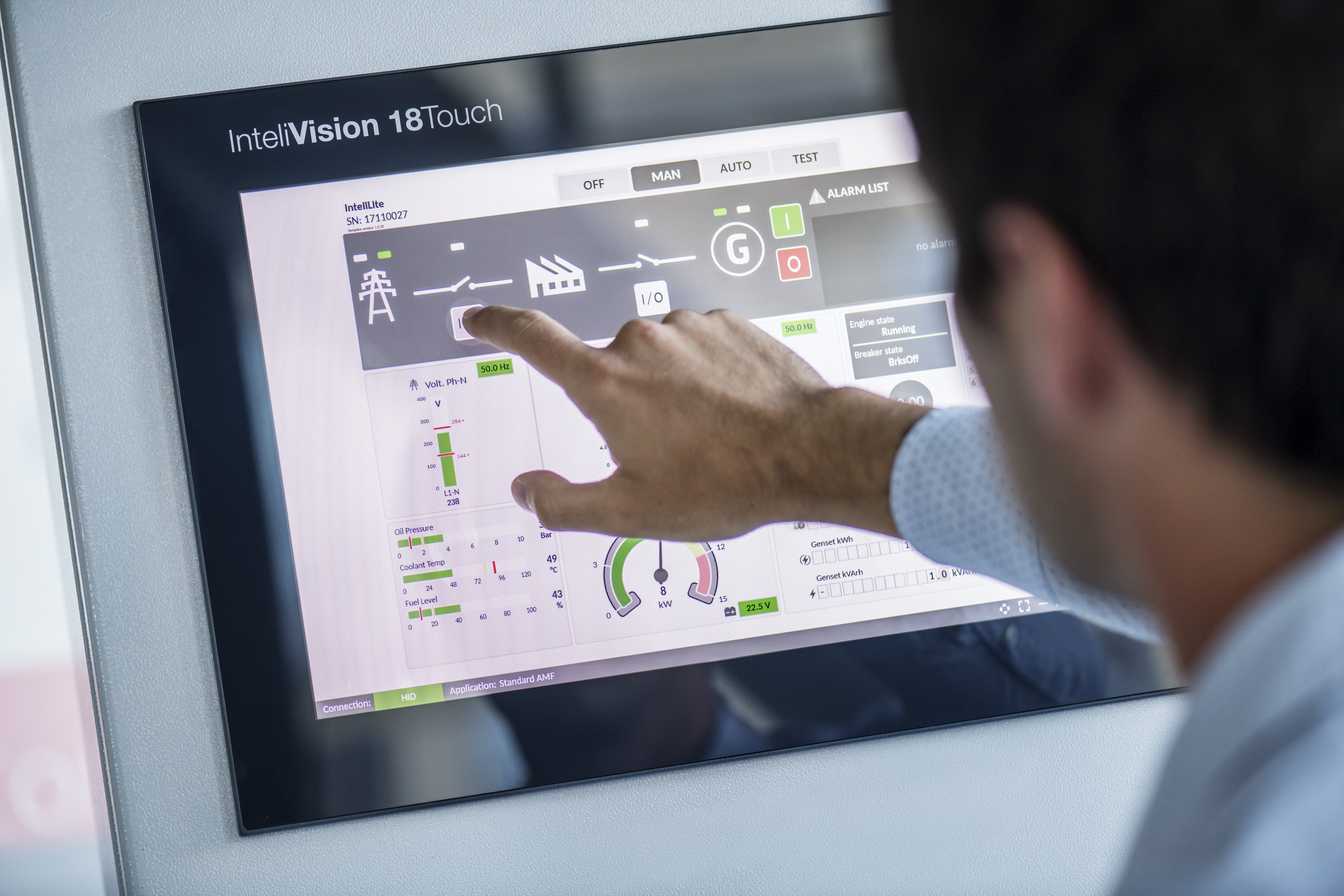 InteliMonitor

InteliVision 18Touch comes with InteliMonitor preinstalled, an advanced ComAp PC tool that enables monitoring and controlling of the entire site from one device. This software makes InteliVision 18Touch perfectly suitable even for the most complex applications. It enables to monitor and control sites consisting of many controllers or use it for CHP or hybrid applications. Built-in features of InteliMonitor enable you to use automatic settings or create a SCADA system that meets exactly your needs.

More Details about InteliVision 18Touch

For more details about this product, please visit the InteliVision 18Touch product page.